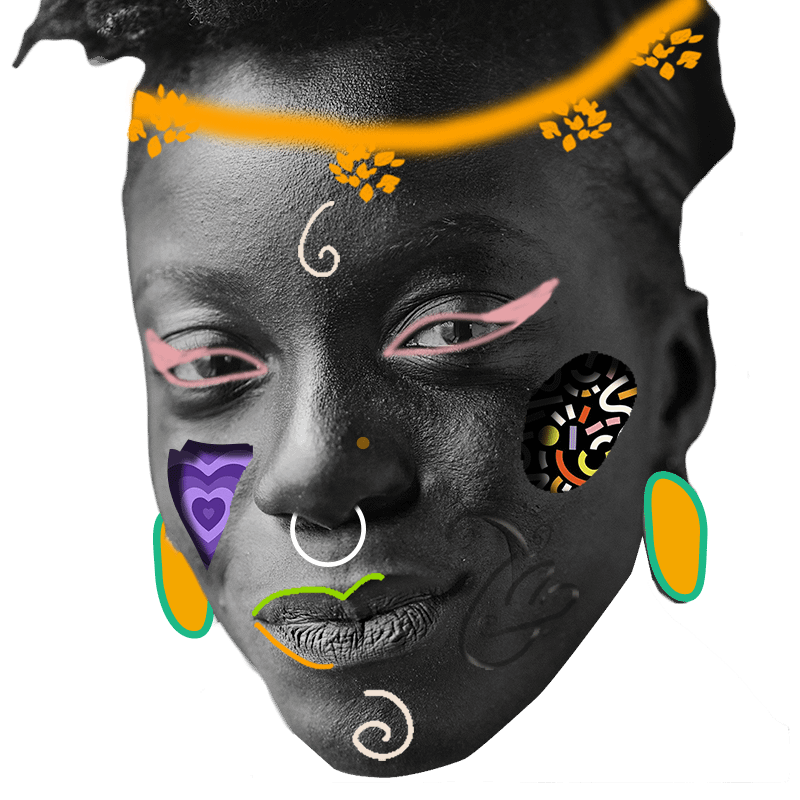 I'm a social entrepreneur who flies around working on communications strategies, illustrations, motion designs, talking to people, etc. within the change-making space. But don't put me in a box. 📦
I was born in Nigeria and as the creative person with multiple skill sets, I've always been and still am fascinated by how powerful storytelling and the media can be in drawing your attention to issues that matter, and how it can make you take action.
I founded the award-winning BlankPaperz Media at 17. Over the years I've been training young people on personal leadership and communications. Going further to support more education, we've partnered with several organisations to fund thousands of young people through funding school fees and by creating access to education and training opportunities for them, via GC Funds which I also began.
I presently work with Social Enterprise World Forum and have previously done some work for Chatham House (The Royal Institute for International Affairs), Stand.Earth, SAP, National Geographic Society and others.
BlankPaperz amplifies the works of young African changemakers and provides educational opportunities to thousands. Z'axis magazine and GC Funds are subsidiaries.
Social Enterprise World Forum
SEWF's goal is to accelerate our transition to a new global economy and is the world's largest annual gathering of social enterprise leaders and supporters
Leading Ladies Africa 100 Most Inspiring Women 2022, Nigeria – 2022
Award of Recognition, iKapture Centre for Development, Nigeria – 2022
The Royal African Young Leadership Award for Creative Leadership by the Ooni of Ife, Nigeria – 2021
Award of Honour, Skill Factory Africa – 2021
Most Influential female, 2021 Young Professionals Bootcamp, Nigeria – 2021
Her Network Woman of the Future Award, Lagos, Nigeria – 2018
Global Teen Leader / Certified Peacemaker Award by We Are Family Foundation, New York – 2018
Award of Recognition by the English & Literary Studies Students' Association, University of Calabar Nigeria – 2018
Ashoka Africa Youth Champion, Johannesburg, South Africa – 2018
British Council Nigeria Study UK Ambassador (visit to Gloucestershire, UK) – 2018
Street Priests Award for outstanding partnership to transform the lives of Street Children in Calabar – 2017
Ashoka ChangemakerXchange Social Innovator and Fellow, Senegal – 2017
Study of the United States Institutes for Student Leaders, California State University, Chico, USA – 2017 
BlankPaperz: Communication strategies to position yourself and your project to get local and global support (Uyo, Nigeria 2023)
Young People Connect Africa: How to start a career in communications (virtual, 2023)
Stilt.Ng: The hidden power of storytelling in mental health advocacy (virtual 2022)
iKapture YLEAD Fellowship: Keynote on upskilling in a digital era (virtual, 2022)
Temi Badru: Wakeup: attract global opportunities (virtual 2022)
The Achievers' Trybe: Finding confidence (virtual, 2022)
Awareness 360: Presentation and pitching skills (virtual, 2022)
Jobberman: The butterfly effect of volunteerism (virtual, 2021)
Chatham House: Turning ideas into reality (virtual, 2020)
SAP: Bringing young leaders to the conversation (virtual, 2020)
Social Enterprise World Forum (2x speaker): Building youth movements / Innovation in Youth Engagement (virtual 2020 / Addis Ababa, Ethiopia 2019)
Impact!Africa Social Entrepreneurship Summit (2x speaker): Change Agility, the new strategic advantage for social entrepreneurs (virtual 2021 / Johannesburg, South Africa 2018)